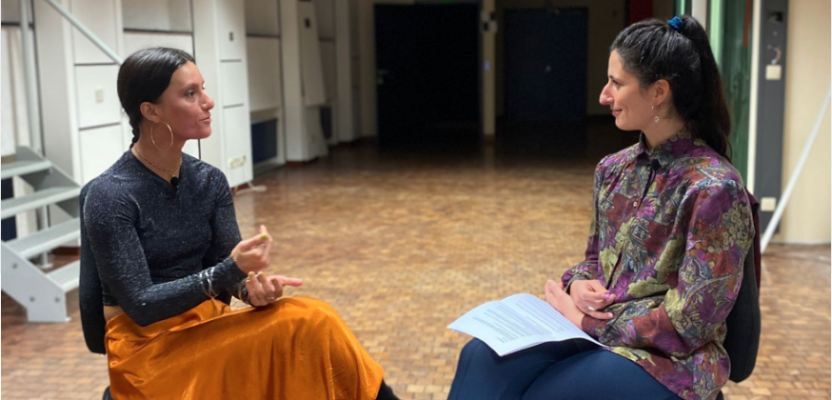 Lila Magnin and Aurélie Alessandroni talk about Azad!
Lila
Aurélie Alessandroni (A): Hello! My name is Aurélie and I am an actress. I'm glad you asked me to be here to interview you and talk about you. I wanted to ask you how to describe yourself to others. Then I thought, damn, you don't like labels so I would like to know how you would present yourself to people who don't know you.
Lila Magnin (L): Hello! It's true, I don't really like labels. Now I'm getting used to it more because I understand that it's easier for people to identify and relate to. But it is true that I have many, I am a versatile artist, I dance, I choreograph, I create music, I write texts, I sing and from time to time I play. I love making videos, directing them, editing them.
Spirituality
A: Ok, so you are a chameleon! I was wondering if to get there, you had had a particular course, if from the beginning you knew that you wanted to be like that and how you arrived at this diverse and multiple curiosity?
L: I grew up in a religiously observant environment. There was music and dancing all the time, it was very present. I didn't grow up with TV so I wasn't very aware of what was going on in the outside world. One day, a friend's big sister brought us lots of CDs, like Christina Aguilera, Jennifer Lopez, the Musical Romeo and Juliet… I think I always knew that I had a very strong connection with music. The first time I went on stage to dance, it exploded in my head. I thought, "I love it! ". I was very young when I discovered that you could make a career out of it, because with us it was just general practice. In the musical Romeo & Juliet, there was dancing, singing and music and I thought to myself, "This is what I have to do"
A: How old were you?
L: 10 years old.
A: And before that you were already dancing?
L: Traditional dance yes.
Journey
A: Subsequently, did you have a more professional career or did you learn on your own?
L: For a year and a half, almost two years, I was at the "Juste Debout School", which is a hiphop dance school in Paris. It's the only professionalizing thing I've done. I didn't finish school because it wasn't the direction I wanted. Otherwise I did, for example, two years of music theory at the conservatory, I also did a few months of piano, but it was a lot through videos and on the computer, like Ebelton, GarageBand that I was self- didact. I didn't go to school much. On the other hand, I took a lot of courses, training, and I did a lot of research on my own how to write songs: I analyzed them, I watched them and I read them.
Inspiration
A: Regarding the inspirations, which ones push you in your creation?
L: Nature inspires me a lot. The moments when I manage to find an internal calm and come back to myself refocus me and bring out new things. There are also a lot of people who inspire me, from many different worlds. Mainly those who overcome their fears and who have a certain integrity in relation to their values and their vision. Intelligently rebellious people who don't give a fuck, have a vision and follow through. For me, it is often linked to a spiritual side, it inspires me enormously.
Azad
A: Regarding your creation, I wanted to know if there was something you cling to?
L: To the impossible, I mean not to the impossible but to moments of magic.
A: To all possibilities and new people! You have already told me that you write a lot and that you write what you imagine and dream of seeing happen. Have you ever had feedback, people who came to see you and who came to tell you things that surprised you, because that's what you had written, for example?
L: So I got lots and lots of feedback! I only had positive feedback, maybe people don't dare to share the negatives with me. I had two or three reviews, but for me it's not negative, it's interesting.
L: Compared to the first one, I felt like I managed to go deeper. Just to see the emotion, the slightly euphoric side that everyone had, I thought it was crazy and I said to myself, I succeeded! To tell myself that through my work I have been able to bring people to a state of euphoria and joy, that's awesome!
A: Is that what you were looking for?
L: Yes, honestly.
A: But there is also humor in your solo.
L: Yes
A: How do you work with humor? Can you name the people you work with?
L: In theatre, there is often a way of doing things, there is often an outside eye, there are different roles. Me, I started to work with certain people, then when I met other people on my way who could better feed the project, I worked with them, etc. So, I was really very fluid and suddenly I'm afraid of forgetting someone, but I work with a lot of people!
A: In any case, it's funny because in your process you are also free precisely, you allow yourself to go where you want.
L: Yes, I think it's also due to the Covid situation. I told myself that anything could happen, so why not be exactly who you want to be and do exactly what you want to do since in reality anything can happen.
RDV this November 19, 2022 at the Théâtre Marni for the performances of Azad by Lila Magnin