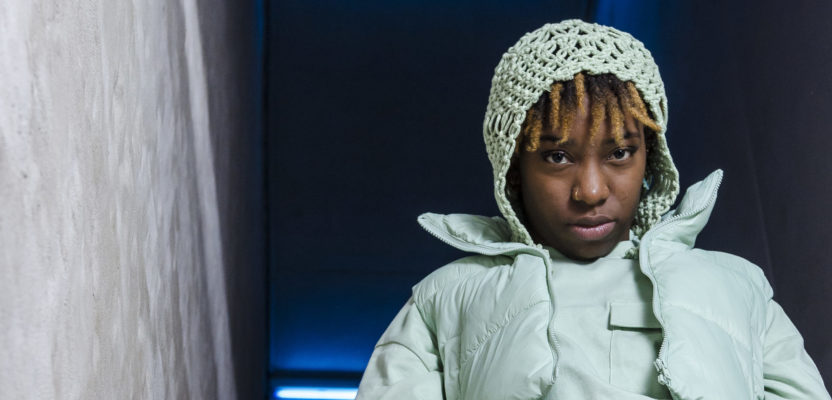 HENDRICKX NTELA TELLS US ABOUT HER JOURNEY AND HER CREATION 'BLIND'
Hendrickx Ntela is a 29 years old Belgian hip-hop, krump dancer-choreographer and performer. She is dedicated to the promotion and the development of krump in Belgium, as well as the transmission of this art form in order to perpetuate it. Hendrickx travels internationally to represent Belgium at dance competitions and she collaborates with leading choreographers.
Hendrickx began dancing at the age of 15, specializing in hip-hop. Noticed by her teachers, started to dance in Liège, then in Brussels. However, it was at the age of 18, when a terrorist attack petrified Liège, that Hendrickx discovered krump. The krump collective bbf2.0 published a video in tribute to the victims of the attack, broadcast on RTL TVI.
Interested in the energy released by this dance, Hendrickx contacted the collective and joined them. Despite her shyness and lack of self-confidence, krump helped her gain confidence. Hendrickx was warmly welcomed by the male group, and quickly proved she could dance. This event is the beginning of her passion for krump.
"Krump is a raw, spiritual, authentic dance, that can look aggressive in the first place but which tells a story through the expression of many emotions" Hendrickx Ntela
Hendrickx went on to explore other artistic projects. She joined the group One Nation, a female hip-hop and krump dance collective, which enabled her to considerably improve her choreography. Hendrickx has also taken part in numerous international competitions, including the world krump championship, reaching the final each time.
Building on these experiences, Hendrickx created her own pieces, such as "To Be a Slave" and "Blind", with her company Drickx Konzi. She has also performed for commercial projects in London and Paris.
After five years of performance as a professional dancer, Hendrickx is now looking to broaden her horizons and focus more on choreography as well as artistic direction. She aspires to become a choreographer and director, and wants to develop her company Drickx Konzi. Her ultimate goal is to become an artistic director in the audiovisual field. At the same time, she keeps promoting women's krump in Belgium.
Hendrickx's artistic influences include Grichka and Dexter, who inspire her greatly. She also draws inspiration from the people around her and from music, which play an essential role in her creative process. Hendrickx has a deep desire to push back the boundaries of choreography and performance art. After ten years of practicing krump, she feels the need to turn towards new forms of expression.
Hendrickx's most recent creation is "Blind". This show explores issues such as social control, truth and the manipulation of information. Hendrickx, with the co-choreographer Pierre Belleka – aka Dexter, questions the ability of each individual to think for themselves, and to throw off the traditional system. "Blind" does not claim to bring the truth, its aim is to raise awareness.
In creating "Blind", Hendrickx was able to rely on the contributions of many people. These include Tony Noscript Ndoumba, Pierre Dexter Belleka, Luka Austin, Arias Fernandez, Israel Ngashi, Morf Music, Jeanel Ambrosio, Thierry Masamba, Joshua Twambi, Grichka, Flora Chassang-Simonpoli and Ayelin Parolin. Hendrickx would like to thank her entourage, her family and her krump family, as well as Lezarts Urbains, Théâtre National, Théâtre de Liège, Charleroi Danse and Get Down, who supported her artistic path.
Before performing, Hendrickx prepares herself both physically and emotionally, by warming up her body and immersing herself in the world of krump with her community of dancers.
Her next project, RUTHLESS, is an all-female hip-hop and krump dance group, showcasing the talents of women aged 14 to 30 in the dancing community. Hendrickx also aims to further develop her company Drickx Konzi, while continuing to give her energy to national and international performing tours of "Blind".
Keep in touch with Hendrickx Ntela's next projects, tours and creations on our website, as well as on our social networks and her own.
Photo ©Shino Vision