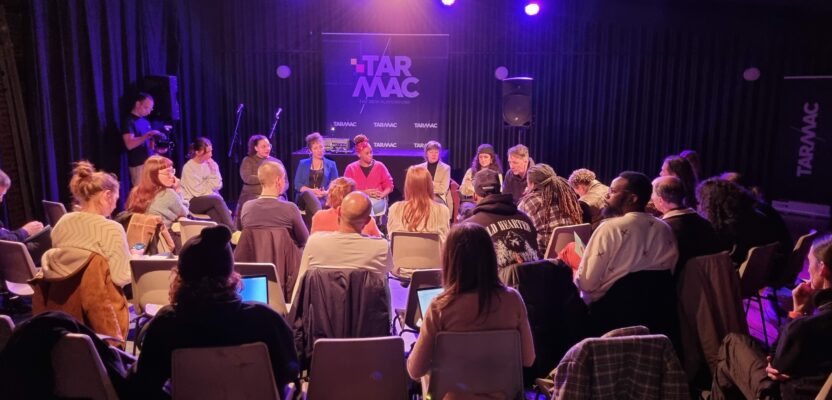 Feedback on the Table-Ronde
On Friday February 10, 2023, during the first edition of Rendez-Vous Get Down, a professional meeting took place in the form of a table-ronde.
This meeting, in collaboration with Wallonie-Bruxelles Théâtre Danse and Le Flow – Centre Eurorégional des Cultures urbaines, was aimed at professionals in the dance sector (Belgian and international) and artists.
The discussions were therefore moderated by Naïma Gaye (In charge of cultural action at Flow), with interventions by Rose-Amélie Da Cunha (producer and programmer – Lyon, formerly La Villette), Luc Deleau (Festival Summer Dance Forever, Amsterdam ), Shamisa Debroey (De Singel), Fabienne Aucant (Charleroi Danse), the choreographer Lila Magnin and finally, Camille Philippot (Get Down).
We tackled together the question of the representation of hip hop choreographic creations within national and international cultural seasons, with different themes. The exchanges turned in particular around the international diffusion of these creations, the still present segmentation of these programmed creations still often only during 'highlights', the collaborations in terms of diffusion, or even, the questions around the place of female choreographers in hip-hop creation.
This table-ronde thus highlighted the differentiation of the distribution of hip-hop dances in cultural programming, and in particular in Belgium where hip-hop production suffers from the division of the country between the French-speaking part and the Dutch-speaking part.
In addition, the discussion also focused on the place of women and the percentage of female choreographers in hip-hop culture from which it was concluded that more and more young female choreographers are recognized and found in programming, despite a need to have to set the bar ever higher and to have to fight even more as a woman to finally hope for only ⅓ of the recognition, as shared with us by the choreographer and artist, Lila Magnin.
Thus, what we can learn from this meeting is the need for these events like Les Rendez-Vous Get Down, where little by little a process of openness and visibility of urban dances in the programming can take place.