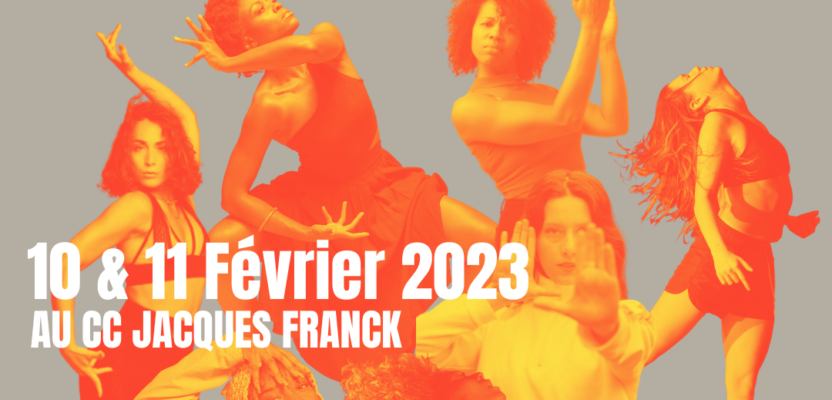 On the program of Les Rendez-Vous Get Down
February 10 and 11, 2023 – CREATIONS – BATTLES – SHORT FILM – DANCE CONFERENCES
As part of the Dance, Circus and Theater Meetings
The Jacques Franck opens its doors to Get Down for an unprecedented weekend of sharing in movement: all the spaces will be invested in highlighting artists from hip hop cultures in the broad sense, with different influences and dance styles. Stepping, hip hop, krump, voguing and many others, come and discover a multidisciplinary program around a 100% female program!
Friday February 10
Armonia by Viola Chiarini
In this therapeutic dance solo, Viola Chiarini yields to the spontaneity of Waacking to express her emotions and free her body. This introspective creation inspired by the traditional Italian dance the Tarantella and the healing rite il Tarantismo, is a tribute to all these women who suffer violence and injustice.
Artistic direction, choreographer, dancer, performer: Viola Chiarini
7:30 p.m., 25 min, Grande Salle
Un Nouveau Souffle by Nadine Baboy
Un Nouveau Souffle is a dance-poetry solo, performed and interpreted by Nadine Baboy, which offers a poetic exploration where dance speaks and speech becomes movement. Artistic direction, creation, writing, texts, choreography and performance: Nadine Baboy
8:00 p.m., 30 min, Grande Salle
8:30 p.m.: break
Azad by Lila Magnin
"Azad was my great-grandmother's first name. This word means "free", and today this is the link I want to make. In this solo I explore the complexities of femininity in a world that does not understand all the issues. This body that is sent back to us as a weight, could it not actually hide a source of power? "
Creation & performance: Lila Magnin
8:50 p.m., 1 a.m., Grande Salle
After the party
DJ set with DJ Mab'ish
9:45 p.m. – 11:45 p.m., 2 a.m., Petite Salle
Saturday February 11
Nadine Baboy's Body Language Workshop
Participants: on registration (limited number)
Reservation: https://lejacquesfranck.be/eve…
With her experience in Dance Storytelling, Nadine Baboy wants to share her art and pass it on. She develops the Body Language concept, a body expression workshop where dance is explored as an instrument through which words, emotions and narratives are set in motion. Body Language is an artistic expression and coaching platform for anyone who loves movement and wants to express themselves through dance and body language.
2 p.m.-3:30 p.m., 1:30 a.m., Grande Salle
Price: 15 € / person
Unspoken Words of an Heartist by Nadine Baboy
In these special times when the entire planet has found itself confined to tight spaces and suffered an emotional rollercoaster, Unspoken words of an Heartist has the desire to bring light to the midst of darkness through empowering storytelling of hope. Movement becomes speech and speech becomes movement.
Creation, writing, production, interpretation: Nadine Baboy
4 p.m., 7 min, Grande Salle
MILLE% of Hendrickx Ntela
Documentary short film. Documentary film on the creation process of Blind, krump show choreographed by Hendrickx Ntela.
Directed by: Catherine Wielant
4:15 p.m., 20 min, Grande Salle
Dance conference around stepping with Briana Ashley Stuart
Briana Ashley Stuart gives us an in-depth look at her work and research in percussive dance and sound. She tells us about her journey from the United States to Belgium through her experiences in transmitting and researching the tradition of cultural dance, stepping and her latest work Moving Meditations.
4:45 p.m., 45 min, Grande Salle
Excerpt from B* by Yipoon Chiem
Yipoon Chiem begins a new search, a solo performance of which she will be both the interpreter and the architect. B, a new opus where hip-hop, Cambodian temple dance, Japanese culture and martial arts mingle. B***, a quest for the sources of anger, to better exorcise it, or catalyze energy.
Author/Choreography/Performance: Yipoon Chiem
5.30.15 mins, Foyer / Bar
BATTLE All About Love hosted by Justine Theizen
Hip hop and queer dancer, Justine Theizen has always wanted to bring these two communities together. This is how the idea of a Battle All Style was born, the objective of which is twofold: both to make queer dancers more visible so far and to offer a "safe" place to all the participants. This battle is open to anyone, hip hop dancer or not, feeling touched by the queer community from near or far.
6 p.m.-9 p.m. (battle participants expected from 5 p.m.), 3 a.m., Petite Salle
After party
DJ Set with DJ Assia MK
9 p.m., 3 a.m. (maximum), Petite Salle
Excerpt from Blind by Hendrickx de Ntela (during the Afterparty)
Following an exchange on their respective cultures, Hendrickx Ntela from the second generation of immigrants in Europe, and Pierre Dexter Belleka exiled following a dictatorship, meet around the Krump to design Blind. Life paths impacted by conflict opened their eyes to the cyclicality of history and the importance of political discourse. "Blind" puts five krumpers of various origins, multiple experiences facing the same story in different places around the world.
Compagnie Konzi Choreographers: Hendrickx Ntela, Pierre Xavier Belleka alias Dexter Performers: Hendrickx Ntela, Israël Ngashi alias Wild and Pierre Xavier Belleka alias Dexter
9:30 p.m., 15 min, Petite Salle