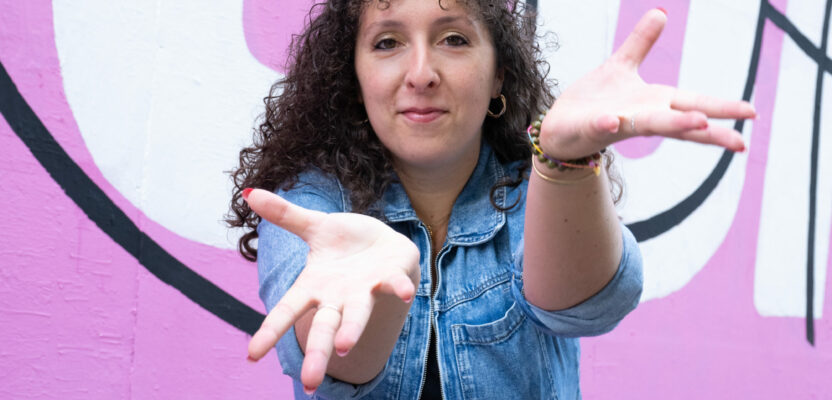 Camille Philippot reveals her new project: Les Rendez-vous Get Down!
It is in complete privacy, in the premises of her agency, that Camille Philippot, founder of Get Down – Dancers Management, reveals to us the why and how of her brand new project: Les Rendez-vous Get Down. This event will take place on February 10 and 11, 2023 at the Center Culturel Jacques Franck in Brussels.
"For this Rendez-vous, Get Down invites the public around two solar dates, sharing in motion around a multidisciplinary, hip hop and 100% female poster of the artists accompanied by the agency"
What are Get Down Appointments?
On Friday February 10 and Saturday February 11, 2023, the Jacques Franck Cultural Center opens its doors to us and gives us carte blanche for a weekend! Get Down has therefore decided to highlight the artists with whom the agency collaborates throughout the year.
For this Rendez-vous, Get Down invites the public around two solar dates, sharing in motion.
This event aims to provide additional visibility to artists from hip hop cultures, in the broad sense, to the different influences and styles of dance: hip hop, stepping, krump, waacking, … Styles that are still poorly represented in dance programming in the Brussels cultural sector.
What is the objective behind this initiative?
Our desire is to make visible the choreographic creations and personalities of these artists with common values with singular messages to broadcast, without stigmatizing them or making them fit into specific categories.
Through this event, we wish to challenge, impact and question the public through the moving messages brought by the artists with whom we collaborate and the projects we wish to support.
Who is this event for?
This event is therefore aimed at a very large and diverse audience: Brussels residents and dance-loving tourists, French-speaking and Dutch-speaking Belgians, artists, professionals from the Belgian and international sector.
"Hip hop dances are still underrepresented in the dance programs of the Brussels cultural sector"
What can we expect from the program of Les Rendez-Vous Get Down?
Les Rendez-vous Get Down has a busy program in store for you! For a weekend, the public is invited to participate in this multidisciplinary program around a 100% female program of artists accompanied by Get Down; with solos, a dance conference, a workshop, dance short films, an all-style battle, or even DJ sets to set the dancefloor on fire during the two evenings!
Where can I find the complete program?
The detailed program of Les Rendez-vous Get Down will be revealed in the coming weeks on the Get Down website and networks. Stay tuned!
Which partners are supporting you in this project?
This first edition of Rendez-vous Get Down is therefore organized in co-production with the Jacques Franck (Saint-Gilles Cultural Center in Brussels). In addition, we are happy to be able to count on the collaboration of the media TARMAC (RTBF). In addition, Wallonie-Bruxelles Théâtre Danse will support us in welcoming international programmers and professionals from the dance sector as part of the pro meeting on Friday afternoon.
In addition, Get Down has been supported by the Dance Service of the Wallonia-Brussels Federation since 2022, which allows us to develop our project and bring more visibility to the artists and projects supported.
You speak of a first edition; Would you like to organize this type of event regularly?
(laughs) Indeed, it would be great to be able to carry out several editions of the Rendez-vous Get Down. Belgium is full of talents to promote to the public, and we have lots of other ideas and desires for the future… But one thing at a time. Let's enjoy and focus here on this 2023 edition which will make our work and the artists we support visible. It will be a real test (and challenge!) for us, and we will see after for the rest 🙂
Find all the information about Rendez-Vous Get Down on our website and the Jacques Franck website